In an effort to encourage student enjoyment of mathematics and mathematics education, NCCTM recognizes outstanding mathematics education students at colleges and universities across the state. Each college and university with a teacher education program may nominate one rising junior or senior working towards elementary, middle school, or secondary certification.
One student is selected from each region, and the winning students are invited to attend the State Mathematics Conference in October where they are recognized and receive their awards.
Deadline for Nominations: May 30 each year
Two forms should be submitted for each nomination, one by the student nominee and one by the Department Chair or Program Coordinator.
Materials may be submitted electronically to Ana Floyd [afloyd@randolph.k12.nc.us]. Please include the nominee's name in the subject line. Alternatively, hard copies of the nomination materials may be mailed to:
Dr. Ana Floyd
Randolph County School System
2222-C South Fayetteville St.
Asheboro, NC 27205
Questions? Contact Ana Floyd!
---
2019 Recipient
James Austin Callahan, East Carolina University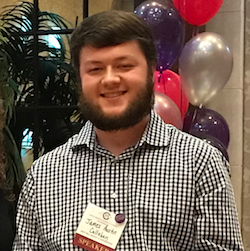 ---
2018 Benjamine Rogers, Elon University
2018 Charlcy Carpenter, Appalachian State University
2018 Renee Rhionon Fisher, East Carolina University
2017 Ashley Lawson, North Carolina State University
2017 Josselyn Geyer, Elon University
2017 Tiffany Frady, Western Carolina University
2016 Taylor Cesarski, Elon University
2016 Sarah Marsh, East Carolina University
2015 Margaret Leak, NC State University
2015 Mihoshoty (Miho) Yamaguchi, NC A&T State University
2015 Kelsey Brown, Appalachian State University
2014 Ashley Alston, North Carolina A&T State University
2014 Rebekah Currie, East Carolina University
2014 Sara Martin, Western Carolina University
2013 Blair Watford, East Carolina University
2013 Leigh Iler, Elon University
2013 James Schrum, Western Carolina University
2012 Timothy (Ryne) Cooper, East Carolina University
2012 Sandra Weiss, Elon University
2012 Hannah Watso, Western Carolina University