The Rankin Award is designed to recognize and honor individuals for their outstanding contributions to NCCTM and to mathematics education in North Carolina.
The award, named in memory of W. W. Rankin, Professor of Mathematics at Duke University and first recipient, is the highest honor NCCTM can bestow upon an individual.
Nominations may be submitted at any time; recipients are announced each year at the State Mathematics Conference.
Questions? Contact Lee Stiff, NC State University [lee_stiff@ncsu.edu].
---
2018 Recipient
Marta Garcia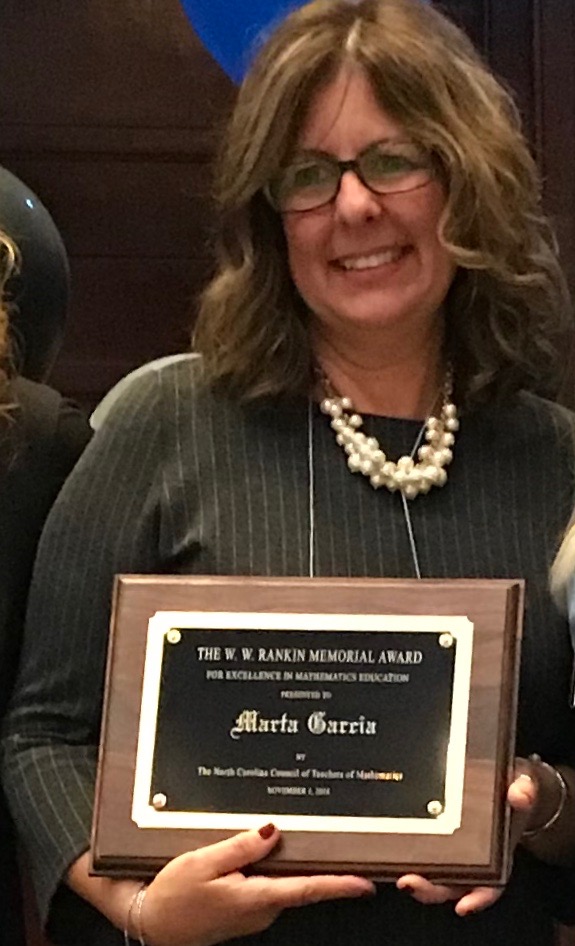 Marta Garcia has been an outstanding educator for more than 35 years and has contributed to the mathematics education of countless students and teachers during this time. Marta is unanimously regarded as a passionate teacher and learner of mathematics. In fact, "passion" is the one word that is repeatedly used to describe her. As a colleague wrote: There has been no one in North Carolina who has been a more enthusiastic, articulate, and effective advocate in support of the implementation of … standards-based curriculum materials for elementary schools than Marta Garcia.
---
2017 Martha Ray and Kitty Rutherford
2016 Bampia Bangura and Carol Midgett
2015 Wendy Rich
2014 Ron Preston, Rose Sinicrope
2013 Ray Jernigan, Julie Kolb, Dan Teague
2012 Ann Crawford, Debbie Crocker
2011 Marilyn Preddy
2010 Rebecca Caison
2009 Harold Reiter, Jane Timmerman
2008 David Royster, Jerry Taylor
2007 Ben Klein, Barbara McGill, Bill Scott
2006 Phillip Johnson, Emogene Kernodle, Bill Waters
2005 Bill McGalliard, Betty Long
2004 Randy Harter
2003 Diane Frost
2002 John Goebel, Harold Williford
2001 Ralph Willis
2000 Jan Wessellv
1999 Jane R. (Betty) Barnett, Robert Joyner, Virginia Newell
1998 Roger Bruhwel
1997 Hunter Ballew, Jacquelin Nutt, Janice Richardson
1996 Richard Haworth, Peggy Rooks
1995 Claudette Brownley, Theresa Early
1994 Gilbert Casterlow, Leo Edwards, Jr., Mary Joyce Henderson
1993 Christine W. Gantt, Joyce D. Hooker, Ron Marshall
1992 Annie Puett, Lee Stiff, Linda H. Sullivan
1991 Betty Robinson, Jeane Joyner
1990 Ralph DeVane, Jeanette Gann, Jean Taylor
1989 Elizabeth Frazier, Sue Sams, Olive Taylor
1988 Gerry Francis, Geneva Maney
1987 Ronald Hann
1986 Joseph W. Dodson, William F. Palmer, Betty Williamson
1985 Katharine Hodgin, Ruth Rufty, Katye Sowell
1984 Miriam Leiva, John W. Ogle, Emmett Sams
1982 William Paul
1981 Elaine Bologna
1980 Robert Jones, Josie Thompson
1979 Margo Perkins
1978 John Kolb, Cleo M. Meek
1977 Ruby B. Smith, Herbert E. Speece
1976 Sybil Duckett-Gambell
1975 Annie J. Williams
1974 Marjorie Brown, William W. Rankin