Welcome to NCCTM
The North Carolina Council of Teachers of Mathematics (NCCTM) is the professional organization in North Carolina of all persons responsible for the teaching of mathematics.
Its membership includes teachers from all levels, kindergarten through graduate school, and other professionals who work with curriculum and materials for the teaching of mathematics.
NCCTM News
---
Registration is now open
for the State Math Conference and
Fall Leadership Seminar
---
Congratulations to the 2019 Logo Contest Winner!
Avnielle Krause, 6th Grade, Western Region, Buncome County, teacher: Brandi Fleckenstein.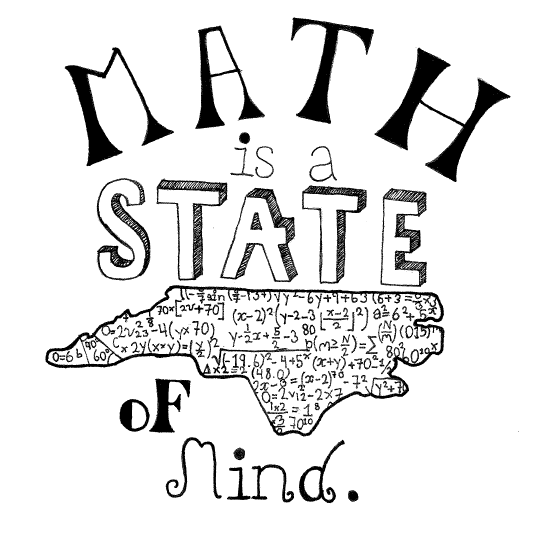 ---
Supplies Needed for the Marketplace!
Calling all Educators! Please save your new and/or gently used educational materials for Market Place at the conference. We collect these materials at the conference to put in our Market Place. Pre-service and new teachers are allowed to come to the Market Place to purchase these materials at a very low cost. We need your help to keep the room stocked. More information will follow about drop off place for materials at Koury Convention Center. Thank you for saving your materials and helping these young educators stock their rooms!
---
NCSSM will be hosting
a 3-Day Modeling Workshop for Teachers
in July on Math 3 and Precalculus
For more information: https://sites.google.com/ncssm.edu/math-professional-development/home
---
2019 State Mathematics Conference
November 7-8, 2019
Developing Mathematical Mindsets for All
Speaker proposals are now being accepted, deadline July 1!
http://tinyurl.com/NCCTM2019
[more]
---
Congratulations to the new NCCTM officers
and a big thank you to the outgoing officers for their service!
Terms begin on April 12 at the Spring NCCTM Board meeting.
[more]
---
The Spring 2019 Issue of the Centroid is
Now Available for Download!
[more]
---
Registration is Open for
the 2019 Regional Math Fairs!
Students in grades K-12 in North Carolina schools are eligible to submit projects for the Eastern, Central, and Western Regional Math Fairs. Deadlines for registration: Eastern - March 1; Central - February 16, Western - March 1 [more information]
---
Exhibitors and Sponsors Sought for
State Math Conference
Interested in exhibiting materials at the State Math Conference or sponsoring an event? Registration is now open! [more information]
---
Gearing up for the spring semester?
Don't forget to include NC EMPT in your teaching plans.
We're all in a state of flux as many school systems move from the fall semester to the spring semester. Let's hope that the weather patterns will be uneventful during this new semester!
Please encourage high school math teachers in your area to register their students for spring NC EMPT pre- and/or post-testing….such a GREAT opportunity for career and college-bound students!
For more information, go to www.ncempt.org and then open the link entitled: "NC EMPT bimonthly e-newsletters."
---
Preregister for the Western Regional Conference!
Cultivating Coherent Connections
9-12 on March 16, 2019
CD Owen High School
Black Mountain
Preregistration: http://bit.ly/2019WRC
---
Register now for the Spring 2019 Leadership Seminar
Targeted Support for Mathematics Learning
9 AM to 4 PM on March 22, 2019
Red Lion Hotel (formerly the Radisson)
High Point, NC
NCCTM 2019 Seminar Registration Fees (includes lunch)
| | |
| --- | --- |
| Leadership Seminar registration fee for current members | $65 |
| Leadership Seminar registration fee for non-members | $75 |
---
Congratulations to 2018 NCCTM Award Recipients
Honored at a Recepion held on Thursday, November 1, at the 2018 State Mathematics Conference were Marta Garcia, WW Rankin Award winner; J. Denise Johnson, Innovator Award winner; NC Collaborative for Mathematics Learning, Innovator Award winner. Also honored were Outstanding Mathematics Education Students, Outstanding Secondary Mathematics Teachers, and Presidential Award nominees.
---
2019 TCM Conference
NC School of Science and Mathematics
January 25-26, 2019
The first 40 NC public school teachers to register will get a reduced registration fee of $50 (a discount of $129!). The registration fee covers all materials and meals
For more information see: https://www.ncssm.edu/tcmconference
---
Donations for NC Schools
Posted on behalf of Jen Curtis, Executive DIrector of NC MAST:
I am writing to let you know about a joint relief effort called FAST NC. Several organizations, including ours (Emerald Education's non-profit affiliate NCMAST), are raising funds to provide assistance to schools, children, teachers and families affected by the devastation of Hurricane Florence. While relief organizations are providing for basic necessities and FEMA funds are coming in, there is still a great need to get books, supplies, learning materials into the hands of children living in hotels who do not have schools to attend.
All donations are fully tax-deductible as NC MAST is a 501c3 charitable organization. Paypal provides receipt and you will receive a donor letter via email for additional tax purposes. Please help spread the word about this initiative [
flyer
]. Thanks in advance for supporting children and teachers!!
---
The Fall 2018 Issue of the Centroid is now available!
Submission of news, announcements, and articles are welcome
from both NCCTM members and non-members. [Author Guidelines]
---
NCMATYC Announces its 2019 Conference
The 31st NCMATYC Annual Conference
Caldwell Community College and Technical Institute
Hudson, NC
March 7 and 8, 2019
Come and share your ideas with community college faculty from around North Carolina! [more]
---